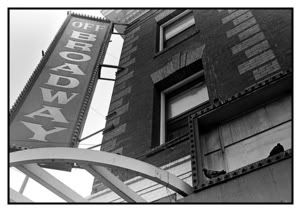 (Yes, I know it's Off-Broadway, but it's just so pretty...don't mind it.)
Yesterday, Atsi Tin and I watched a part of
B'Way
, a six-episode documentary that details the journey of the musical play on the Great White Way. Julie Andrews was narrating it, which was a perfect touch. I have never been on Broadway, personally, and I've even been outside the country, but the appeal of a Broadway play is something that sends shivers down my spine and the hairs on my arms standing up.
The episode that we had seen spanned 1984-2004, and featured musicals such as The
Producers
, the Cameron Mackintosh-produced plays (
Cats
,
Les Miserables
,
Phantom of the Opera
, and
Miss Saigon
),
La Cage Aux Follies
,
Rent
,
The Lion King
, and
Wicked
. I think my heart was hammering in my chest when the words "One Song Glory" flashed on the screen and the Moondance diner came up on the screen. It was just so surreal watching Jonathan Larson moving across the screen, the camera capturing his early performances of "Sunday," his one-man show, and his last day at the diner when the New York Theatre Workshop picked up
Rent
. Tears were in my eyes when he started singing "One Song Glory," and you just knew that this was his moment, and they juxtaposed it with Adam Pascal's performance.
And now I also want to see The Lion King, because Julie Taymor's vision is just so awesome. When they featured the sequence on "The Circle of Life," I swear I could feel chills running up and down my spine.
Somehow, it just seemed more powerful seeing everything unfold onstage, the majesty and grandeur of the African safari. The costumes and the puppets are also amazing, and my god, the New Amsterdam theatre was just beautiful when they managed to restore it to its former Ziegfield glory days. (Much like the Nederlander, when
Rent
decided to occupy its premises when it moved from Off-Broadway to Broadway.)
And of course, the musical close to our hearts (well, at least me and my friends who are all slowly becoming Broadway nuts),
Wicked
, was featured - the video on the making of the musical was just beautiful, and my jaw was just dropping all the time when I saw the rehearsals and the workshops, and the songs come to life. "Defying Gravity" was such a powerful spectacle, and I wanted to reach into the screen and just sit in front of the stage and drink everything in sight.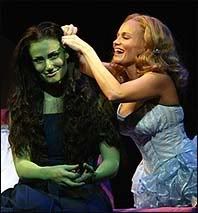 What really made my evening was watching Idina Menzel and Kristin Chenoweth during rehersal, singing "For Good," and the tears started coming again. And then it slowly moved into the performance proper, and you could just hear Idina's voice breaking when she sings, "And I ask forgiveness/For all the things I've done/You blame me for..." and then Kristin chimes in, singing, "But then again/I know there's blame to share/And none of it seems to matter anymore..."
And then I just lost it and sobbed.
I am such a sap. I love Broadway.