Because everything is strange and transitory right now, and I am trying to find if my feet can touch the floor. Because I may be hurtling towards something that is both beautiful and frightening at the same time, because what we want is not necessarily what we need, and yet everything fits just right. And yes, because it is about a boy. It is always about a boy.
Sometimes Their Feet Refuse to Touch the Ground
So this is transition, this inevitable fluidity,
this movement from point to point.
She walks towards him.
The music strikes up.
He do not know where to place
his hands. Her waist curves invitingly.
Beneath them, the water shimmers,
the floor reflecting moonlight, a visual
cue, or an optical illusion. Fear
will tell him that they are dancing
on an ocean, that the flickering lights
below their feet are fish scales catching
a glimmer of starlight.
He tells her that he does not believe in prayer,
and yet there they are, a miracle of science and faith.
They know that a god once stood
where they are dancing. The water laps
between their toes, a warm liquid floor.
Everything swirls here. Nothing is sacred.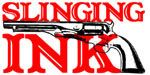 Nikki Alfar
Tobie Abad
Gabby Lee
Andre Mischa Cleofe
Cathy delos Santos