Movement
This is what she knows of permanence: her father's shoes
leaning against the wall of the foyer, the slanted sunlight
of childhood making them glow. They were warm brown,
leather slip-ons that creased slightly at the edge, sloping
into the space where her father had lost a toe. Later, when
she slept with her fourteenth young man, she traced
the outline of his feet with her tongue, tasting their dream of climbing
mountains. She did that once, sharp heels digging into the soil; around her
the clouds and the ground whispered their secrets to one another.
She was only privy to such murmurs at the top, the gust of cold
air reminding her of other views, other panoramas. She grew used
to the weight of her pack, the thickness of her feet a testament
to travel. She could never remember where she lived - all roofs
looked the same, after a while, and the sun had always set
in one direction. She must have seen the world at least twice.
The stars were too familiar to her, the darkness nothing more
than another hotel room. All bodies were the same: all arms and legs and lips,
telling her that she was beautiful while pinning her down.
Because I Forgot To Mail You on My Wedding Night
Dearest, I've always meant to write to you,
and prepared the necessary ingredients.
I am supposed to start by describing
the weather, the poppies by the sill,
the way the clouds gather across
the almost-bright horizon. I am to tell
you about the occassional car
passing beneath the window, the way
his arm curves across the rumpled sheet,
an anchor weighing down this mattress
where I drown. I want to tell you
that there are three steps leading
from our door to the sidewalk, and to inquire
about you, and what the ocean
smells like. You see, I am bordered
by the sky and the walls, paisley-patterned,
covered with framed photographs.
I would like to ask a picture from you,
standing on the deck, the sea breeze
running her fingers through your hair,
they way I used to. This burden you asked
me to carry, this memory of you,
is slowly sinking into the surface of our house:
the kitchen counter, the dining table, this
little desk made of hard dark wood, shiny
with resin and polish. He is fine. We are all
fine. We hope you are, too. Yours sincerely,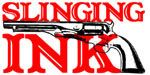 Nikki Alfar
Tobie Abad
Gabby Lee
Andre Mischa Cleofe
Cathy delos Santos