My 19-year-old self must be slapdashhappy right now, since her book is finally coming out, with a pretty swirly blue-and-gray cover, in December - the first in a week-long series of book launches for her. She wrote most of the poems in the collection, entitled "Disturbing the Universe: Poems" when she was 17 and 18, and her editor, Marjorie Evasco, helped her create a semblance of coherence and style that made the entire collection seem (at least) like a proper collection of 30 poems. She was lovely enough to dedicate the collection to her family, her friends, her mentor, and her boyfriend.
My 21-year-old self, however, finds herself at a crossroads: she has been called back to check for the final proofs of her collection, and remembers that she dedicated the book to her then-boyfriend. Two years is a long time, and a number of events have transpired that has led to such a separation during the time. And now, she is deciding if she wants to remove his name from the dedication page, and to pretend it never happened. After all, a book is already a form of immortality, and to have his name associated with her book, and her name, is already something that she would rather not have anything to do with as of the moment. It isn't that she is ashamed; rather, she would prefer to not deal with it as of the moment. He is already part of a history that she has carefully folded and placed inside a wooden trunk, sealed and locked and left inside an attic in her head.
However, upon seeing the final proofs on the table, she realized that if she took away his name, then she might as well replace the entire collection with new poems as well. The collection was representative of her writing during that time, and come hell or high water, that was what was coming out as her first book. And he was part of the creation of that collection, and no matter what happened, she can never deny that he was part of her life, even for just a brief moment, and that at least for the time, she loved him enough to immortalize him in a book. And that a part of her is glad to offer that book to his name, and to his memory, and to acknowledge that there is still a part of her that is thankful to have learned so many lessons from his presence.
And so the collection, "Disturbing the Universe," is finally coming out at the UBOD New Authors' book launch on December 6 at the CCP Main Lobby. The program begins at 6 PM. Come whatever, I hope I'm making the right decision with this.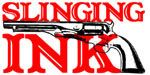 Nikki Alfar
Tobie Abad
Gabby Lee
Andre Mischa Cleofe
Cathy delos Santos