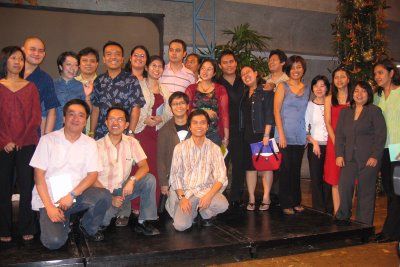 (The UBOD New Authors, smiling painfully for the camera. December 6, 2005, CCP Main Lobby. Photo courtesy of
Alvin Dacanay
.)
It took about three years, countless revisions, new friends found and old friends lost, but finally my first collection of poetry was launched last night as part of the UBOD New Authors' Series of the National Commission for Culture and the Arts. These poems were conceptualized when I was 17 and 18, was recognized as one of the six winning collections of poetry in English when I was 19, and came out a month before I turn 22. Talk about full circle.
But looking at the blue-and-gray cover of "Disturbing the Universe," it feels like looking at a relic of the olden days, a mirror into my past. A book is such a permanent thing, and really, this will always and forever be considered my first published collection of poetry. At a time when I am shifting momentarily into fiction, I realize that a lot of what I wrote before really belongs to that timeframe - a lot more romantic and idealistic, very coherent and organic and while I know that I do not write like that anymore, I'm not sure HOW I write nowadays. After all, I haven't been able to come up with a halfway decent poem in ages - blame it on work, lack of sleep, life-altering experiences, happiness, whatever you have.
And maybe the most telling timestamp is on the dedication page, where I wrote "To P, who is everything I ever wished for."
And for a moment, when I opened my book, I cringed at seeing his name, immortalized for forever - or at least until copies run out. But then, as Dean said when he saw the copy of my book earlier, it places the collection precisely within the timeline of my writing life. The timestamp, as he calls it, becomes more important as the years progress, because that means that it historicizes the context of the poems in the collection. And I suppose that is true: most of the poems in this collection were revised within the context of that relationship, and those experiences, and so what happens is that it becomes a time capsule in verse.
But I am proud of this collection, my first child, my baby. And I am proud of being part of the group of writers who are also in the UBOD collection - young (or feeling young) writers who are all amazing in their own right, and some of whom have already gone into their second books without even formally launching their first. Only in the Philippines, as they say. And in a way, it also inspires me to continue writing in the vein I am both familiar and unfamiliar with - more poems, more stories, creating more mirrors of the worlds I am both frightened and in love with.