At a spoken word event the other night, a small television crew was present. The host, a regular at the late 90s performance poetry scene (there was a scene?) was filming random people for segments of his show, which happened to be a morning show that aired at around 6.30. I was one of the "random people" tapped to speak in front of the camera - something which I am not comfortable doing, but figured that it would be better to do so with my game face on, rather than my OMGWTF look.
So the host shoves a microphone the size of a small fist in front of me, and asks me to introduce myself, and then asks me, "So...what makes you happy?"
Being somewhat sleepy and on auto-pilot, I gave the camera a bright, cheery smile, that made me look fifteen instead of the usual seventeen, and said, "Sex!"
To which the crew and the host gave a collective gasp, and went, "OH NO! DON'T SAY THAT! THIS IS A MORNING SHOW!"
"Oh. Um, sorry."
"So...what makes you happy?"
"Erm...coffee. And cartoons!"
I think I made the host laugh. He was kinda cute, too. But anyone who can still remember the steps to Michael Jackson's "Beat It" is probably gay.
*
Suddenly, I find myself in a position where things are moving quicker now. After a rather rough start during the first few months of the year, I'm realizing that I'm settling into a number of things that are making me, if not happy, at least relatively content. Work is approaching that critical point where I finally finding my footing, and becoming more sure of what I'm doing, and God knows that I do need the extra money - relationships do have that tendency to drain your finances away. @_@ I like the fact that it feels like I don't need to be with someone romantically just to feel complete (even though some people might have a different opinion, haha) and that everything just flows from one moment to another. I like thinking on my feet, jumping from one second to the other, maintaining a certain
je ne sais quois
attitude.
Of course, there is also a part of me that is nervous: I'm waiting for the results this month already, which will be coming in around the last week of May, and we don't know what the results are, and it's really a 50/50 chance of getting into the university. And I think it's only now that I'm realizing that I really want to get that slot and to study abroad, that it is a integral part of my plans for the future. What initially started out as a lark is now beginning to transform into something serious. Of course, Plan B is always to apply at the local university, and Plan C is to apply to the same university again the following year, but somehow I know that my heart will not be into either of these things -
parang panakip-butas lang sila
. And I don't want to do that.
So there. I'm just praying that everything will come together.
*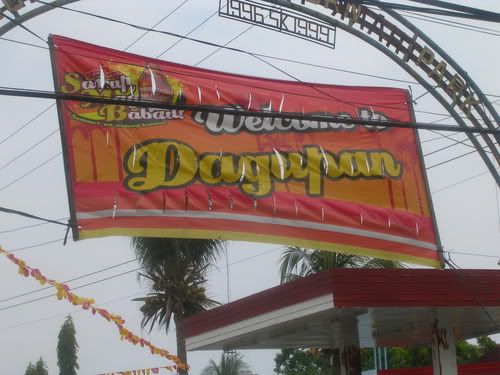 SMB Signage across a Dagupan downtown residential entrance in preparation for the Bangus Festival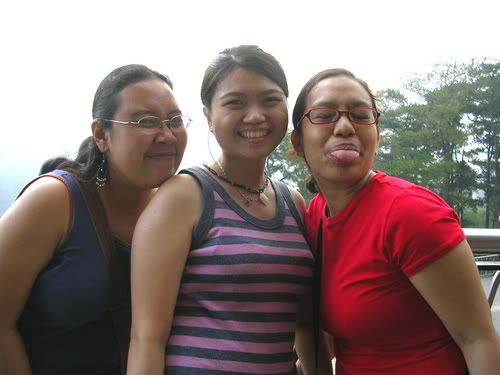 The girls: me, Dean, Polly. SM Baguio viewing deck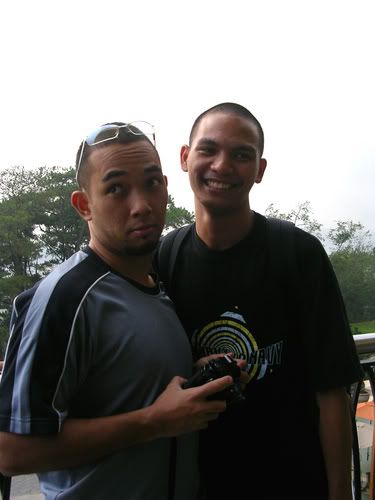 The boys: Paolo (Jilly's boyfriend) and Jay (Dean's boyfriend). SM Baguio viewing deck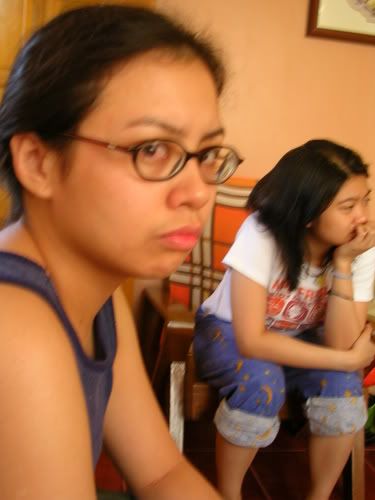 The photographer, (and my bespren) Jilly. First morning in Dagupan, before breakfast
More Dagupan photos up at Jilly's
Multiply
account. Damn, I wish I had a digicam.
I remember that first night in Dagupan where we went to this beautiful beach at around 8 in the evening to have a bit of a swim. The sand was black and fine, like rainwater that flows between your fingers. I had forgotten how hypnotic the ocean is at night: the waves cresting the mirror-like water, the stars so close you could almost touch them if you reach up on tiptoes, the horizon and the sea merging into each other until you are unable to tell where the sky ends and the water begins. There is always something about water - tenacious and mutable, always in motion, that somehow brings out the poet in you.
We waded into the sea, allowing the tide to pull us in. The water was warm and soft, the salt tickling our eyes and mouths as the sea-spray crashed against our skin. We sat in the water, arms linked, our heads bobbing above the surface, waiting, always waiting, for the next wave to come.