The key to learning about a new place is learning to visualize what it looks like. Maps don't really say much, but I've learned that it's always helpful to know when to turn left or right, or to know that the road only goes straight up until a certain way before it curves.
In Davao, commuting was a chore, mainly because from the apartment where we were staying in Lanang was quite a long way off from Mintal, where the UP Mindanao campus is located. Aside from taking at least four rides (the trike from our village to the main road, the jeep from Lanang to downtown, from downtown to the Mintal market, and then from the market to the campus), Davao was unfamiliar terrain for a 16-year-old who had lived in Manila her entire life.
But now, with the shift to Singapore looming, I figured it might be a good idea to learn what I'm getting myself into. Unlike Davao, I don't have a parent who will be with me to show me the ropes of getting from here to there. Of course, unlike my 16-year-old self, I'm not afraid of exploring places anymore. If there's valuable lesson in my one-year stay in Mindanao, it's that you learn what you are capable of in terms of movement, that there is a part of you that automatically navigates through unfamiliar streets and buildings, that there is always a logic to places. And besides, Singapore isn't that big, anyway, and if I can learn how to travel through Makati, then surely moving through a more efficient city would be easier.
Still, when I saw the campus, my jaw simply dropped: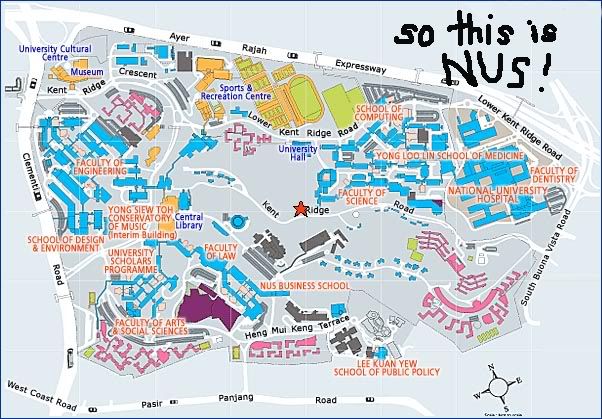 It's quite overwhelming.
And here's my college: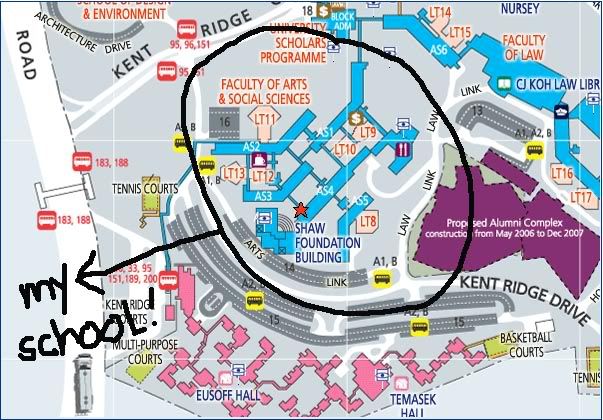 And there's even a virtual tour of the place, which can be accessed
here
.
So there. A part of me is slightly frightened, but it's quickly drowned out by the excited side of me, looking forward to another adventure. ^_^