For the last few weeks, normal meals have become a problem for me. Because of the fact that our flat does not have a working stove, and that Normanton in general does not have a nearby
kopitiam
or food center, one is forced to either take the bus towards the city or to NUS before actually eating something. This is not advisable if you are delirious with hunger.
Of course, we have a water heater and a microwave oven, but neither is sufficient in providing an actual meal.
So far, I've run the gamut of buying microwavable pasta (ew!), microwavable pizza (double ew!), beef pie (relatively okay), eating dinner at 4 PM (still not working), ordering McDonalds' (expensive!), or going to either NUS or to the Alexandra Road food center to eat. However, once I realized that both places are closed once I get out of class, steps must be taken.
Digression: Why not buy an electric oven, you ask? Because then I'd have to buy pots and pans, spatulas and bowls, SPOONS and FORKS and real plates. That, my budget cannot accomodate. Please remember that I am a student on a stipend. Plus, I'd be the only one using them - my flatmates would rather die before subjecting themselves to the absolute torture of cooking. Plus, weirdly enough, I
do
like hawker fare - there's a flavor there that's not really present in fastfood or Western cooking.
Enter
Dabao
, a food service that delivers hawker food around the city for normalized prices - pretty much what you'd get at hawker centers themselves. Trying their service today, I decided to order five meals in order to cut down the cost on the delivery charge (SGD 2.00) and just make sure that I had enough food for the week. You can either call them or text them your order, and apparently they don't charge you if you place your order anytime between 2 AM and 11 PM. So I placed my order - apparently, the only thing you have to consider is the fact that it takes them a bit of time to deliver - anywhere from 60 to 90 minutes, so it's better to place your order well in advance. Like, if you want lunch, better order when you wake up.
Still, the servings more than make up for it. The huge paper package housing the nasi goreng almost overflowed when I transferred it into the plastic box, and the char kwey teow looks excellent.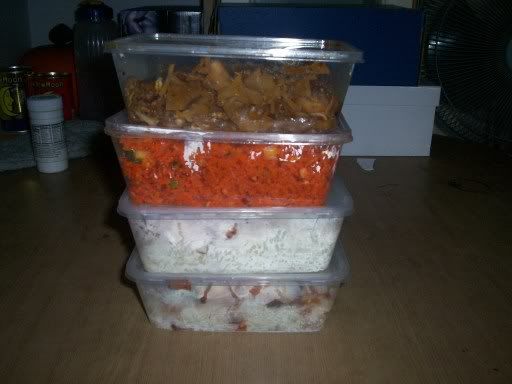 (My lunches and dinners for the week: char kwey teow, nasi goreng, hainanese chicken rice, and gravy pork rice.)
And of course, my dinner for tonight: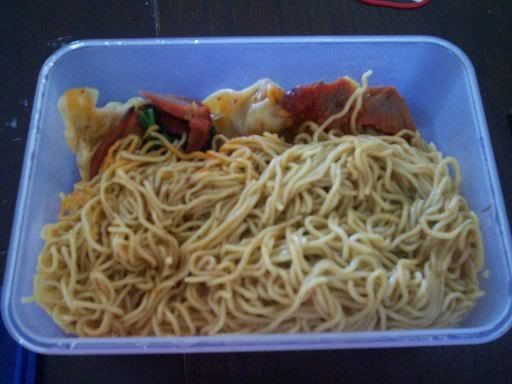 (Wanton noodles)
Not bad - I just spent SGD 25.00 for five meals that will last me a week. ^_^ My only regret is that I should have ordered satay as well. Next time, next time. ^_^