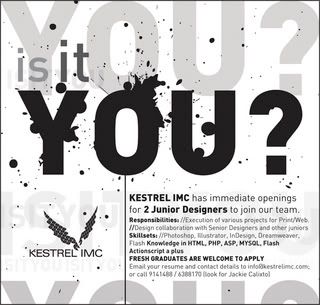 KESTREL IMC
has immediate openings for 2 Junior Designer positions to join the team.
Responsibilities include:
- Execution of various projects for Print/Web.
- Design collaboration with Senior Designers and other juniors
Required Skillsets:
Adobe Photoshop, Adobe Illustrator, Adobe Indesign, Macromedia Dreamweaver, Macromedia Flash
*Knowledge in HTML, PHP, ASP, MYSQL, Flash Actionscript, a plus
***FRESH GRADUATES ARE WELCOME TO APPLY***
Email your resume and contact details to info@kestrelimc.com; or call 9141488 / 6388170 (look for Ms. Jacqui).