So, you see, what bugs me the most is the fact that
everyone
is leaving, and my last semester here seems pretty bleak. Marissa leaving has got to be the hardest to admit to myself, because we're together so often, and to have that kind of absence next semester will be palpable. Not to say that I don't have other friends, but she's the one I trust the most, and there's a part of me that hates the fact that I came in a semester later, because that means she leaves before me, and goodness knows when we'll see each other again.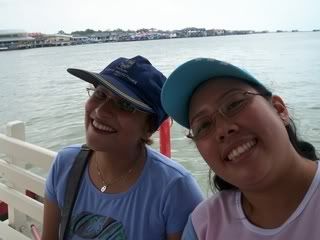 Marissa and me, Kukup, Johor Bahru
And of course, with her gone, so are the others who came with her: Julia, Wang Wei, everyone. Shailaja's also done with her coursework requirements for Ph.D, which means she isn't required to come to school anymore next semester, since she's supposed to be preparing for her qualifying exams already. And then Gail is also leaving at the end of the month - Gail, who is my closest friend outside of school, who is as crazy and snarky as I am, and who's great fun to hang out with - she's going back to Manila for good, after having tried to stay in a job here for about a year.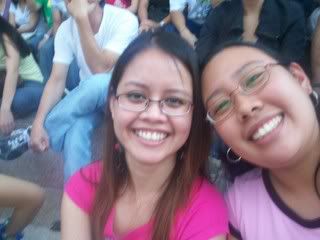 And that's Gail and I, at the Barbie Almabis performance @ the Esplanade
This doesn't mean that I don't have
other
friends, particularly the latest batch of Filipinos that came in this semester, suddenly expanding the nationality boundaries and making things more exciting (yes, we are an exciting and crazy bunch) but it's not the same. There's a level of comfort and understanding that has excited previously and I'm not sure it's going to be the same if you take one person - the central person, in my mind - out of the equation.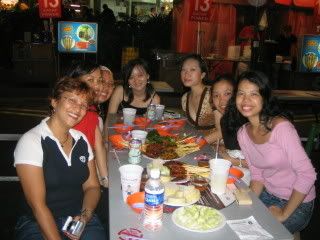 The girls @ Lau Pa Sat Festival Market. L-R: Marissa, Justine, me, Angie, Sandra, Irea, and Lorie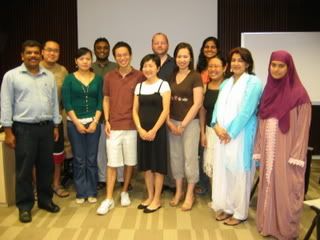 My Lyric class with Dr Yeo Wei-Wei (she's the small woman in black) - which happens to be my favorite class this semester
I suppose it all boils down to the fact that I don't like saying goodbye, that endings are always painful and drawn out and nerve-wracking for me, because how do you handle the idea of possibly NEVER seeing these people again? O_o The problem with grad school in another country, I've learned, is that everything is so transient, that you yourself cannot be permanent, that you are just a blip on the radar. And it frightens me, because I'm not one who likes abrupt changes, particularly with the people I'm with. Once you're my friend - come hell or high water - you're a friend for life. I very rarely cut people out of my life; and when I do, it's only because there's been too much drama that surely it's not healthy anymore.
So now I have three weeks, three measly weeks to say goodbye. I'm not sure I'm strong enough to handle that, but I suppose I have to, right? It's part of growing up, part of leave-takings and homecomings, and the cycle of existing in the universe.
And I'm scared as hell.