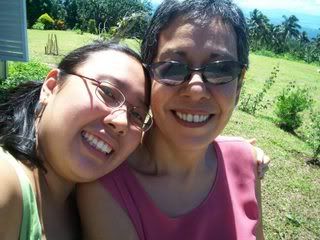 Nanay and me at Tagurano
These are good days.
It's quite an interesting experience so far; as El encouraged me, "Go have adventures!" Of course, being in my mother's territory, all adventures are pretty much restricted to GP ratings. Yes, this is the price I pay for living with Nanay. Oh well – at least it's been great, seeing all my old friends and making new ones, and revisiting old haunts as well as re-discovering places that have changed for the better in the two years that I haven't been to. Of course, the Bisaya skillz that I've picked up along the way is coming back in a rush – the slang and the occassional word that crops up in conversation. Of course, it's also quite obvious that I've come back from another country – I've become more brash, more forward, insisting on my way more and more when I know I'm in the right. The Filipino trait of
hiya
is something that is slowly being whittled away – for better or worse, I suppose.
Anyway, so yesterday Nanay and I picked up Tita Ese at her hotel – she's here as production manager for the Jed Madela concert at the Bangko Sentral ng Pilipinas – and showed her around Davao. We ended up at De Bonte Koe, one of my favorite restaurants in town. The name is Dutch for "The Good Cow" and it's owned by a Dutch expatriate named Heni, who used to be a Chippendale dancer – yes, those men who perform at the strip show in Las Vegas – which explains why he's such a flirt and he has such a gorgeous body underneath those thin cotton polo shirts. He retired here in Davao, and now runs De Bonte Koe as well as Casa Armas, a Spanish restaurant just across from the tiny, candle-lit cow restaurant. Aside from serving amazing steak for less than 500 pesos, DBK also sports a cow-themed motif: the prints along the wall feature cows in famous paintings, there are ceramic cows that hold candles and stuffed toy cows along the corner booths. Even the hand towels in the bathrooms have cow prints on them, and their house wine is served in a glass green bottle decorated with tiny decal cows.
Of course, we ended up stuffing ourselves: baked mussels and warm baguette slices with garlic butter and pesto spread, a Greek salad with large chunks of white feta cheese and olives galore, and then for the main course, I had tenderloin tips in a mushroom and onion sauce; Nanay had chicken satay; Tita Ese ordered a humongous porterhouse steak, "almost, but not really, well done," and for dessert, we had apple pie a la mode.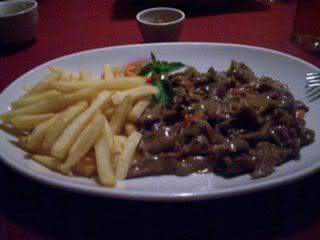 Tenderloin tips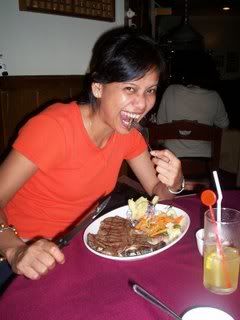 Tita Ese and her porterhouse steak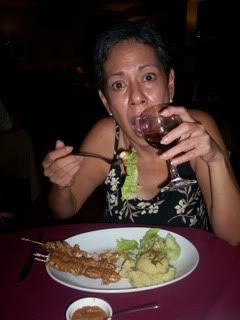 Nanay, her wine, and her satay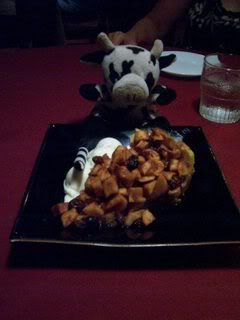 The cow and our apple pie a la mode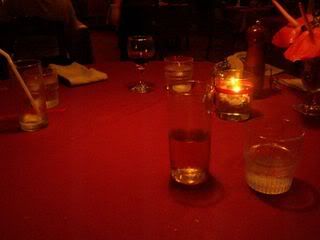 The aftermath of disaster
After that particularly filling dinner, my mom and aunt dropped me off at Matina Town Square, which is one of the hippest places in Davao, and where all the young people (like myself, haha) hang out. It's basically a cluster of open-air resto-bars, cafés, small restaurants, and tree-clustered park-like spaces interspersed between the establishments. Met up with old friends John Bee and June – John's been with me since freshman year in UP Mindanao and June's one of my batchmates at the people I hung out with before. Another friend, Lysette, was supposed to have come, but she was a no-show. The three of us had coffee at Blugre, and then decided to move to Kanto Bar, where a live reggae band was playing. And wonder of wonders, we saw Jamae, another BAE batchmate from UP Min, and her sorority sister, Em. Conversation and beer (and in my case, a Shirley Temple that I politely nursed for hours) flowed freely as we caught up with each others' lives: while I saw John sporadically (read: every couple of years or so), the last time I saw Jamae and June was back when we were freshmen, which meant that it was almost five years ago. O_o Needless to say, we all ended up going home at around two in the morning.
Which was not a very good idea, obviously, since we had to wake up at around 7 AM because Tito Wating, Nanay's friend and one of the judges at the Family Court here in Davao, was fetching us and taking us to his summer house in Tagurano. With us was Tita Tess, who's been working with my mom for almost ten years now – first at the UP Mindanao Cultural Center and now as Land Development Officer at the Physical Plant Office at UP – and is pretty much a surrogate mother to me whenever I'm here.
Tagurano is a district about an hour's drive away from Davao City, and is in the same area as Eden National Park. After the outskirts of the southern part of the city, you end up on unpaved gravel roads and farm paths that only hardy 4x4s can traverse. Thankfully, Tito Wating's car is a pick-up, and loaded down with food for lunch and three very very battered and bruised passengers who were tossed this way and that, we finally came up to his farm in Tagurano, which sits on top of a hilly clearing surrounded by pomelo, mango, and papaya trees. On one side is Mount Apo, crowned with clouds, and on the other side of the slope, you can see the city of Davao spread like a map of greens and browns beneath your feet, and beyond that, the mist-covered Davao Gulf and the ocean stretching over the horizon. Needless to say, I fell in love with the place.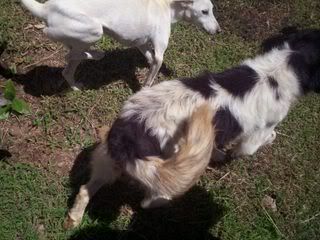 Tito Wating's extremely friendly dogs, Picaso and Whitey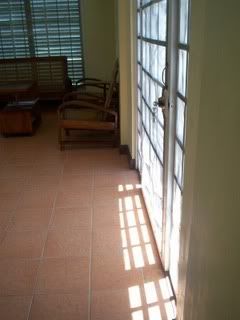 Light on the foyer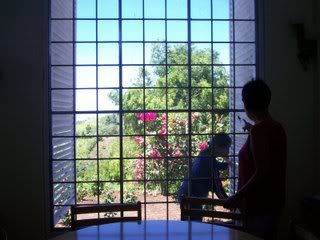 Outside or inside?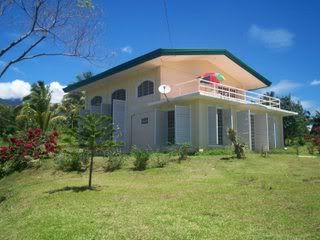 House on the hill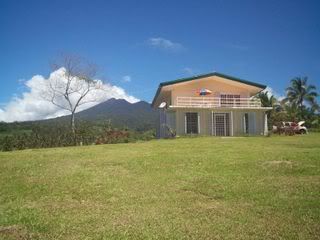 The mountains beyond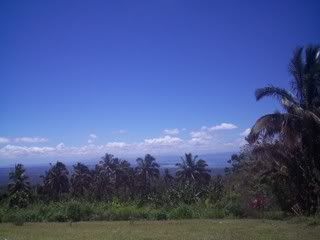 Beyond the rise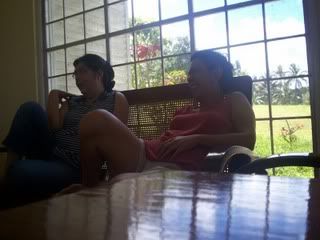 Tita Tess and Nanay
Ang panginoong maylupa, Tito Wating (haha)
The caretaker's dogs, Picaso and Whitey, greeted us enthusiastically at the bottom of the hill, wagging their tails in excitement and running in front of the pick-up, occassionally looking over their shoulders to check if we were following them and we didn't get lost going up. The house itself is a cozy one-room place with a foyer and a loft (that's where the master's bedroom is) and a balcony overlooking the gulf. Flowers grew around the walls, and the trees were already pregnant with fruit almost ready for harvest. Lunch was a lovely affair as well: grilled tuna belly (
bariles
),
adobong baboy
,
gambas al ajillo
, and lovely
lumpiang ubod
with shrimp and pork bits. And of course, freshly cooked white rice still steaming from the clay pot, just the way we make it here.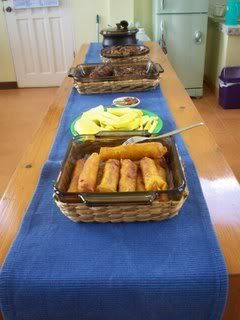 A spread for four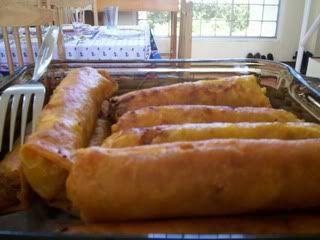 Lumpiang ubod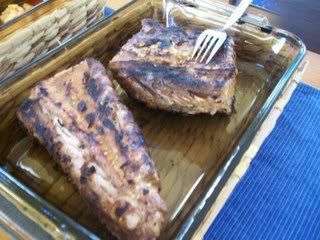 Bariles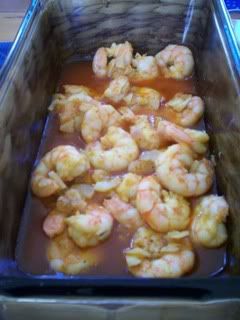 Gambas is love!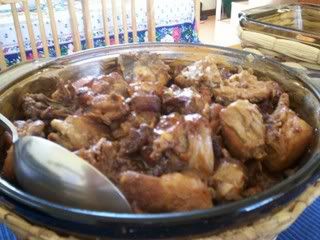 Adobong baboy (stewed pork?)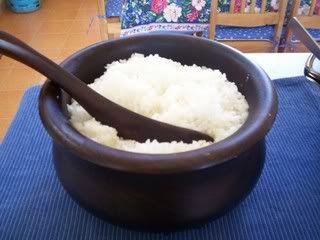 Freshly cooked rice
Two heaping plates and I was finished for the day. We adjoined to the foyer, where Nanay and Tita Tess lit up their cigarettes and Tito Wating regaled us with funny stories from the Davao Regional Court. Of course, we couldn't stay in Tagurano forever, and just as dark clouds appeared over the horizon, we all piled back into the pick-up, the caretaker shuttered all the windows and packed up the leftovers, and we all bundled back to the city proper.
I still have three more days here: I leave for Manila Wednesday afternoon (1.15 PM), flying Philippine Airlines. Not sure what I'll end up doing here for those three days, but I'm just relishing a proper vacation – or at least as proper as I can get without going insane, because you can only be lazy for so long – before I go back to the excitement and bustle of Manila.