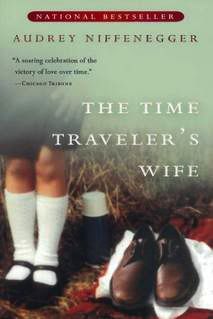 This book makes me fall in love with writing over and over again. I totally forgot to bring it to Singapore, and only rediscovered my (rather battered) copy somewhere under the small continent of books on my desk and decided to bring it to Cebu for reading material. It actually took a lot of self-control not to devour the entire novel in a night. For me, this is how I want to write - a heady mixture of happiness and sadness; a poetic language that evokes something more that the visual, but also the visceral; a voice that whispers inside your ear, more intimate than any lover. I would gladly read this book over and over again, just for the sheer joy of reading it.
The upside of reading this is that it also reminds me to pay a visit to my old friends, prose and poetry, who always welcome me with open arms. Especially since it quotes Rainer Maria Rilke's poetry and draws parallels to A.S. Byatt's
Possession
(another lovely novel that's close to my heart), which means that I start looking for my old books and perusing old verses. I wish I could afford a copy of T
he Duino Elegies
, and perhaps the
2006 Best American Poetry
anthology, which was edited by one of my favoritest poets, Billy Collins. Floodgates are now open: I suddenly remember that I would like to read Jhumpa Lahiri's
The Namesake
just because it looks interesting, and perhaps look out for David Mitchell's
Black Swan Green
or
The Ghostwriter
just because it seems that the language is lovely and lulls you to sleep. I miss buying books, and reading just for the sake of reading - graduate school requires your mind to think a certain way, to analyze words a certain way, and especially in literature, where there are so many perspectives to utilize and justify, maybe we're all just missing out on the
enjoyment
that literature brings. I swear, scholarship destroys stories. As human beings, we love tearing things apart just to see how it works, but see, we can't really put them back together the way they're supposed to be.
Anyway, going back to poetry. Rilke's always been a beloved poet, and I think I needed to grow up a bit before I could tackle his
Diaries of a Young Poet,
which is a translation from the original German, and collects three volumes of the accounts of his travels across Europe when he was not quite twenty three. It must be amazing to live through these times, when artists could find patrons to sponsor their intellectual trips across Venice and Rome and Florence, where love affairs and poetic infatuations would run rampant, and you would know the people who would shape modern Western thought, bywords and holy names in the academe.
The poem in
The Time Traveler's Wife
is from
The Duino Elegies
, which Henry recites in Clare while she is in labor, what she calls, "the poem about the lovers on the carpet." (Oh, wouldn't I want someone to recite poetry to me while I'm giving birth!) I can't find a copy of it online, but here's perhaps my favorite Rilke poem, translated by Stephen Mitchell
,
which I got from
this site
.
You who never arrived


Rainer Maria Rilke


You who never arrived
in my arms, Beloved, who were lost
from the start,
I don't even know what songs
would please you. I have given up trying
to recognize you in the surging wave of the next
moment. All the immense
images in me - the far-off, deeply-felt landscape,
cities, towers, and bridges, and unsuspected
turns in the path,
and those powerful lands that were once
pulsing with the life of the gods -
all rise within me to mean
you, who forever elude me.

You, Beloved, who are all
the gardens I have ever gazed at,
longing. An open window
in a country house - , and you almost
stepped out, pensive, to meet me.
Streets that I chanced upon, -
you had just walked down them and vanished.
And sometimes, in a shop, the mirrors
were still dizzy with your presence and, startled,
gave back my too-sudden image. Who knows?
perhaps the same bird echoed through both of us
yesterday, seperate, in the evening…